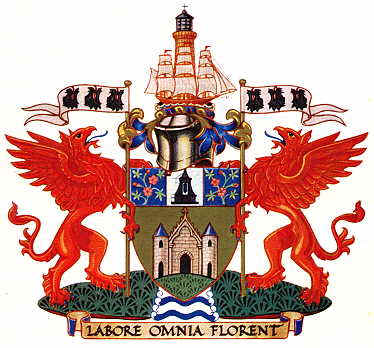 ECCLES 1914-18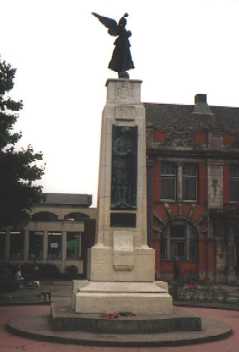 THE PAGES AND ARTICLES WITHIN THIS SITE
ARE INTENDED AS A TRIBUTE TO THE MEN OF THE FORMER BOROUGH OF ECCLES, LANCASHIRE
WHO SERVED AND FELL IN THE GREAT WAR 1914 - 1918.
IN REMEMBRANCE OF FAMILY MEMBERS KILLED IN THE GREAT WAR

Pte. 1493 Thomas Barrow 1/5th Manchester Regiment
Thomas Barrow was my Great-Uncle and was born on 25th December 1891 at 4 Pollitts Buildings,Winton, Eccles. The eldest son of James and Elizabeth Barrow, he worked at the Patricroft Locomotive Sheds and was a member of C Company 11th Platoon. He died of wounds sustained in the Gallipoli Campaign on the 14th June 1915 and is buried at Chatby Military Cemetery, Alexandria, Egypt.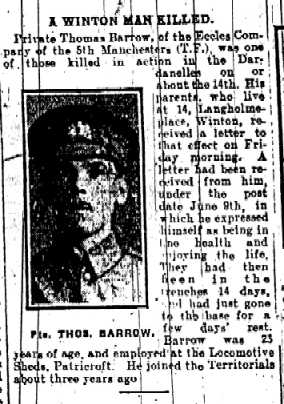 Eccles & Patricroft Journal 25th June 1915.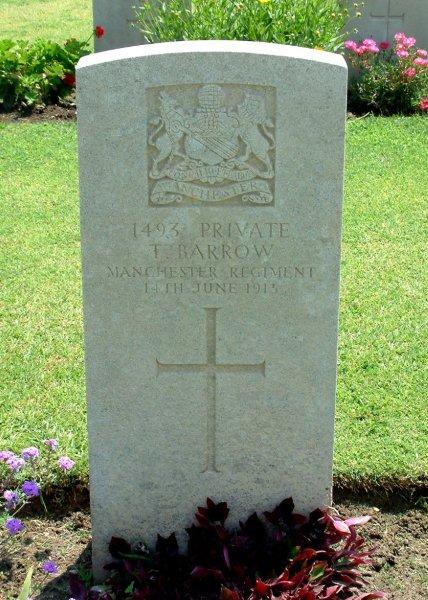 Gnr. 106134 John William Lee 276th Siege Battery., Royal Garrison Artillery
Pte. 41100 Herbert Lee 1st Battalion., Royal Inniskilling Fusiliers
John William and Herbert Lee were Great-Uncles of my wife Susan. The sons of George and Rachel Lee. John William was born at Dewsbury, Yorkshire in 1877, Herbert was born at Batley Carr, Yorkshire in 1881. The family moved to and settled in Salford, Lancashire about 1890. John William died of wounds on the 15th October 1917 and is buried in Spoilbank Military Cemetery, Ieper, Belgium. Herbert was killed in action on the 23rd March 1918 on the Somme, France. He has no known grave but is commemorated on the Pozieres Memorial, Somme, France.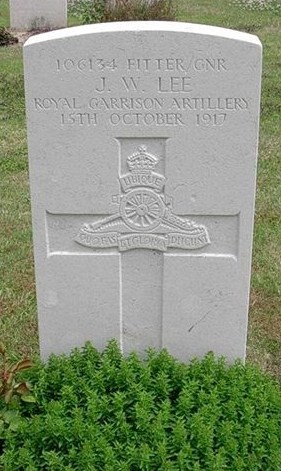 John William Lee's Grave, Spoilbank Military Cemetery, Ieper.
***********
Pte. 13911 Robert Snape 6th Battalion, Prince of Wales Volunteers (South Lancashire Regiment).
Robert Snape was the son of James and Ann Snape nee Martin, He was born at the family address, 1 Pollitts Buildings, Worsley Road,Winton, Eccles on 22nd February 1891 and was a cousin of my Great -Uncle Thomas Barrow. Prior to enlisting in the army, he worked for the Anglo-American Oil Company at Mode Wheel, Salford. He was killed in action on 9th August 1915 at Sulva Bay Gallipoli.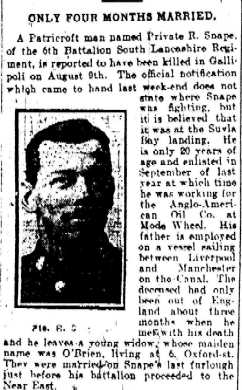 Eccles & Patricroft Journal 24th September 1915
*************************
BRIDGEWATER STREET UNITED METHODIST MISSION
ELLESMERE STREET, PATRICROFT, ROLL OF HONOUR
PATRICROFT ENGINE SHED WAR MEMORIAL
THE ROLL OF HONOUR FOR THE PARISH OF CHRIST CHURCH PATRICROFT 1914-1918
THE ROLL OF HONOUR FOR ECCLES PARISH CHURCH 1914-1918
COMMONWEALTH WAR GRAVES AT PEEL GREEN CEMETERY, ECCLES (1914-1918)
THE ROLL OF HONOUR FOR THE PARISH OF ST. JOHN THE BAPTIST, IRLAM 1914-1918

IRLAM AND CADISHEAD WAR MEMORIAL

(THIS WEBSITE WAS A PROJECT STARTED IN 2001 AFTER MY QUEST IN SEARCH OF THE ANDOVER STREET ROLL OF HONOUR )

LINKS TO EXTERNAL SITES THAT MAY BE OF INTEREST
THE COMMONWEALTH WARGRAVES COMMISION