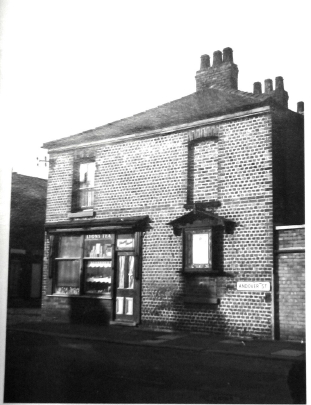 ROLL OF HONOUR
ANDOVER STREET
NEIGHBOURHOOD
| | | | | | | | | | |
| --- | --- | --- | --- | --- | --- | --- | --- | --- | --- |
| Aldred St. | | Lincoln St. | | Andover St. | | Athol St. | | Beech St. | |
| Stoker W.Pilling | RR | Pte. J.H.Wilson | RL | Pte. A.J. Smith | LF | Pte. J. Durrigan | MR | Pte. T. Hurst | RL |
| Rifleman W.Edwards | RRR | Pte. J. Wilson | MR | Pte. A.L. Felstead | LF | Pte. J. Mather | MR | Cpl. G. Lingard | RL |
| Pte. W.Howarth | LF | Pte. H Wilson | RWR | Pte. T. Morris | RSR | Pte. T. Mather | RSR | Pte. A. Maiden | RMLI |
| Pte. J.Burns | CR | Pte. R.Crompton | CR | Pte.W. Morris | RM | Pte. T. Oakley | LF | Cpl. J. Ashurst | MR |
| Pte. W.Hayes | LF | Pte. R.Abraham | ASC | Pte. J. Guinnane | RL | Pte. J. Oakley | LF | Pte. J Deakin | MR |
| Pte. J.Hayes | MR | Pte R.Abraham | RFA | Pte. W. Thornley | MR | Pte. C. Mason | RF | Pte. E. Casey | LF |
| Pte. Michael Connor | LF | Pte. G. Pearce | ASC | Pte. W. Taylor | LF | Bdr. P. Mason | RFA | Pte. E. Maiden * | CR |
| L.Cpl. J.Bent | LF | L.Cpl. J.Goldstrong | LF | Pte. W.H. Hudson | LNL | A.B. A. Mason | RN | Sgt. F. Mc Kierran * | LF |
| Pte. E.Proctor | RLR | Pte. C.Barnes | RORL | Pte. H. Potts | LF | Gnr. J. Mason | RGA | Pte. W. Day | LF |
| Pte. H.Proctor | MR | Cpl.A.Doyle | MR | Pte. R. Pearce | SR | Cpl.H. Mason | RMLI | Pte. R. Dean * | LF |
| Driver. E.Cavanagh | RFA | Pte. J.Johnson | LF | Arnold St. | | Gnr.B.Mason | RFA | Pte.J.Buxton | RB |
| Cpl. J.Pryor, DCM | RE | Pte. J.Scott | LF | Pte. J. Jameson | ASC | Pte. J. Farrell | LF | Pte. C.B. Kirkham | MR |
| Pte J.Geary | LF | Pte. D.W. Jones | MR | Pte. H. Jameson | LF | Cpl.J.Corrigan | LF | New Lane | |
| Gnr. J.Kent | RFA | Pte. J.E.Jones | LF | Pte. J. Henderson | LF | Pte. J.Corrigan | MR | Capt. Adjt. Thoms | SLR |
| Pte G. Warroll | LF | Pte. R.Jones | MR | Driver. J. Henderson | ASC | Cpl. J. Fieldhouse | LF | Pte. T. Thoms | SLR |
| Pte. J.Wilson | RLR | Gnr. T. Myers | RFA | Sgt. C. Cann | LF | A.B. W Fieldhouse | RNVR | Pte. H. Thoms | LF |
| Pte. G. Mennell | LF | Rifleman. J. Stockley | RIR | Pte. J.H. Clegg | CR | Pte. Michael Donlon | LI | Pte. L. Thoms | LF |
| L.Cpl.W. Radcliffe | MR | Pte. J. Curley | LF | Pte. J. Clegg | RE | A.B. J Rustidge | RNVR | Pte. E. Davis * | MR |
| Cpl. W.Pasco | RE | L.Cpl. R. Cooper | RORL | Cpl. J. McCann | ASC | Cpl. J. Rustidge | LF | Sapper. H. Davis | RE |
| Pte. N.Doyle | WR | Pte. S. Cooper | LF | Pte. T. McCann | LF | L.Cpl. A. Robson | LF | Sapper. T. Clare | RE |
| Cpl. W.Hamilton | LF | Cpl. W. Barton | RORL | Pte. J. McCann | CR | Pte. W. Hembrough | LF | Pte.A.Clare | RL |
| Pte. T.Priete | LNL | Pte. A. Woodfine | RL | Pte. B. Cutts | CG | Pte. J. O'Toole | RL | Sapper. H. Wild | RE |
| Gnr. S. Murray | RGA | Cpl. J.Barton | LNL | Cpl. J.P. Davis | CR | Pte. T. Newall | RFA | Pte. J.O. Wild | LF |
| Gnr. J.Murray | RFA | Pte. N.Wright | RL | Sgt. P. De-Arcy | RHA | Pte. J. Newall | LF | Pte. E. Tonge | LF |
| -T.Murray | BR | Bdr. T.H. Warburton | RFA | Pte. T. Valentine | LF | Pte. John Newall | LF | Pte. J.H. Tonge | LF |
| Driver.R.Ashcroft | RFA | Gnr. W. Warburton | RGA | Pte. G. Creasey | AVC | Sgt. C.R. Goulding | LF | Pte. J. Griffiths | ELR |
| Cpl. H..Ashcroft. | MR | Atherton St. | | A.B. - P. Maloney | RNVR | Pte F. Charlton | LF | | |
| Sgt. S.Shaw | LF | Pte. A.Abbott | TFMR | Pte. J. Kenstey | LF | Gnr.P. O'Donnell | RFA | | |
| Pte. T.Shaw | LF | Pte.A. Richardson | MR | LCpl. T. Roberts | LF | Sgt. T. O'Donnell | RIR | | |
| Pte J.Jordan | LF | Driver. C.Bagshaw | ASC | Pte. Tim O'Brien | CR | Bdr. B. O'Donnell | RGA | | |
| Pte. Jones | WG | Sapper. G. Roberts | RE | Pte. T. Clarke | SLR | Cpl. J. Shields | AOC | | |
| Pte.W.Potts | SB | A.B. J. Wilkinson | RND | Pte. A. Merrigold | RL | Pte. J Newhall | TRB | | |
| Dudley St. | | Pte. P. Bibby | EL | Pte.H Worsnipp (MM) | LF | Pte. J. Elliot | TRB | | |
| Pte. Michael Kerrigan | LF | Pte. E. Steeples | LF | Florence St. | | Pte. W. Bowker * | LF | | |
| Pte. J. Murgatroyd | RAMC | Pte. W.Hayman | LF | Sgt. F. Hearld | LF | Owen St. | | | |
| Driver. W.Newton | ASC | Pte. W.Maher | MR | Pte. J. Patten | MR | Pte. R. Daley | RS | | |
| Pte. J.Worthington | RSLI | Pte. E. Roberts | RWF | Pte. H. Martin | ASC | Sgt. G H McCormick | RE | | |
| O.S.M. Lees | RNVR | Pte. J. Roberts | RWF | Pte. W.H. Walton | ASC | L.Cpl. T. Massey | RS | | |
| L.Cpl. Lees | MR | Pte. A. Roberts | RWF | Winifred St | | Pte. J. Sloane | MR | | |
| Pte. J.Abraham | ASC | Pte. C. Roberts | RWF | Driver. O. Boyle | ASC | Pte. T. Sloane | SLR | | |
| | | Pte. W. Roberts | RWF | Driver. H. Stabler | LF | Pte. W. Sloane | LF | | |
| | | Pte. W. Hughes | LF | Pte. J.W. Horrocks | MR | Pte. Joe Sloane | ASC | | |
| | | Pte. H. Siddons | RO | Pte. J.W. Horrocks | CR | Pte. T. Childs | CR | | |
| | | Pte. J. Artingstall | RORL | Pte. M. Perkins | LF | Pte.W. H.Higginbottom | LF | | |
| | | | | L.Cpl. J. Lavelle | CR | Pte. A. Todd | BR | | |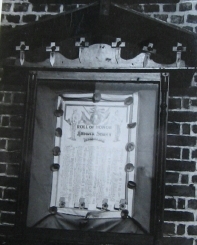 The Roll of Honour for the Andover Street Neighbourhood was sited on a shop wall on the corner of Andover Street and Athol Street, Patricroft, Eccles. The entrance to the shop was situated on Andover Street, the memorial contained the names of servicemen from the surounding streets, 21 of which were killed or died and 3 that were listed as prisoners of war and missing. The streets dedications on this roll were as follows: Aldred Street, 32 men listed, Andover Street, 10 men listed, Arnold Street, 22 men listed, Atherton Street, 17 men listed, Athol Street, 34 men listed, Beech Street, 12 men listed, Dudley Street, 7 men listed, Florence Street, 4 men listed, Lincoln Street, 26 men listed, New Lane, 13 men listed, Owen Street, 10 men listed, Winifred Street, 6 men listed.
During the redevelopment of the area, it was found neccessary to remove the memorial to avoid damage, this took place in October 1965 and consequentially the memorial was placed in the safe keeping of Monks Hall Museum.
The memorial in now currently under the care of Salford Museum and Art Gallery,The Crescent Salford.
Many thanks to Roger Hart for supplying the original transcription.
Images courtesy of Salford Local History Library.