THE GREAT WAR 1914-18
THIS TABLET IS A TOKEN OF APPRECIATION OF THE SERVICE GIVEN
BY THE 128 MEN OF THE PATRICROFT STEAM SHED
WHO FOUGHT IN PRACTICALLY ALL THEATRES OF THE WAR
AND IS IN PROUD AND IMPERISHABLE MEMORY OF THE UNDERMENTIONED MEN
WHO MADE THE SUPREME SACRIFICE
____
| | | |
| --- | --- | --- |
| JAMES BEBBINGTON | JOHN HUGHES | JOHN HENRY PRICE |
| THOMAS BARROW | HUGH HUGHES | WILLIAM HENRY PARRY |
| WILLIAM DAVID BARTON | OWEN ELIAS JONES | CHARLES SHAW |
| LEONARD BRITTAIN | THOMAS LARNER | ALBERT SHERIFF |
| JOHN COWIN | GEORGE EDWARD MOORE | JOSEPH HEAP SIDEBOTHAM |
| GEORGE COTTAM | WILLIAM McEVOY | GEORGE WILLIAM SHEPPARD |
| SAMUEL COOPE | WILLIAM FRANCIS MURDEN | HENRY THOMAS |
| FRED FRANCIS | WILLIAM ARTHUR MATTHEWSON | DAVID RICHARD WILLIAMS |
| WILLIAM GERRARD | JOSEPH ORLEDGE | JAMES WATKINSON |
'Forget us not O Land for which we fell
May it go well with England, still go well
Keep her proud banner without blot or stain
Lest we may dream that we have died in vain'
___________________
The Patricroft Engine Shed War Memorial was unveiled before a crowd of more than 2000 spectators on Saturday, 21st July 1923, at 4.00pm, by Mr. E G Purser Manager at the Crewe Works of the London Midland & South Railway. A total of 128 of the shed employees had served in the forces during the conflict, 4 of which had been awarded the Military Medal. The memorial which was originally fixed to one of the engine shed walls, listed the names of the 27 employees that were killed during the war.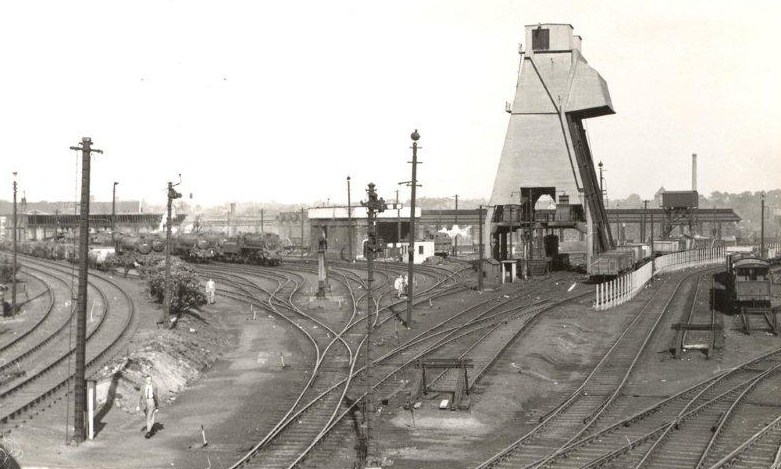 A photo taken in 1971 of Madeline Patry, Borough Librarian and Frank Mullineux,the keeper of Monks Hall Museum, taking possesion of the Patricroft Loco Sheds Memorial and providing a permanent new home due to the closure and subsequent demolition of the sheds and yards that began in 1968.
The memorial is now in the care of Salford Local History Library.